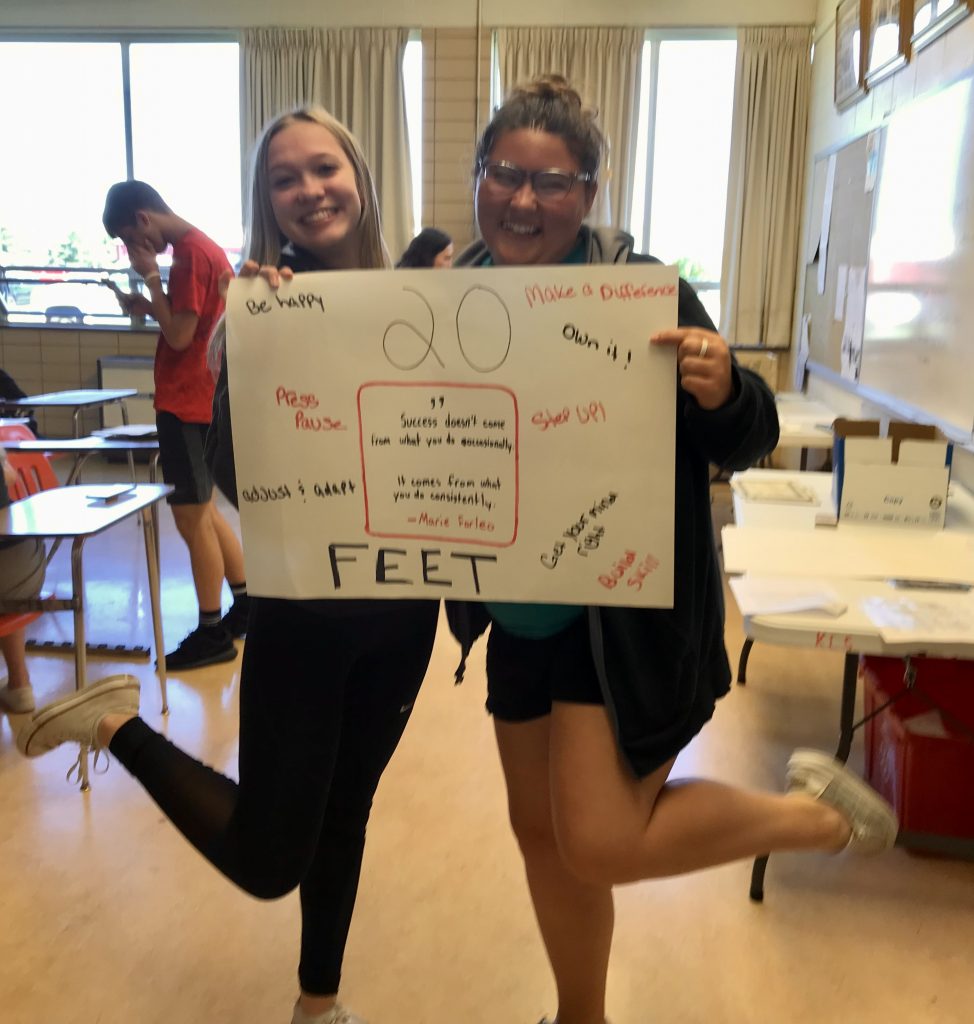 Throughout the school year, Kenton High School students have been learning about the R-Factor, a culture, behavior, and decision-making framework, on alternating Mondays in their What's Important Now (W!N) Advisory classrooms.
The R-Factor equips students with the mindset and skillset to be intentional about the way they think, make decisions, and take action and thereby successfully navigate their school and life experiences. It is built on a simple, powerful equation E + R = O (Events + Response = Outcome). Students learned how to "Manage their R." Simply put, how one chooses to respond to the events and circumstances that he or she encounters will produce better outcomes.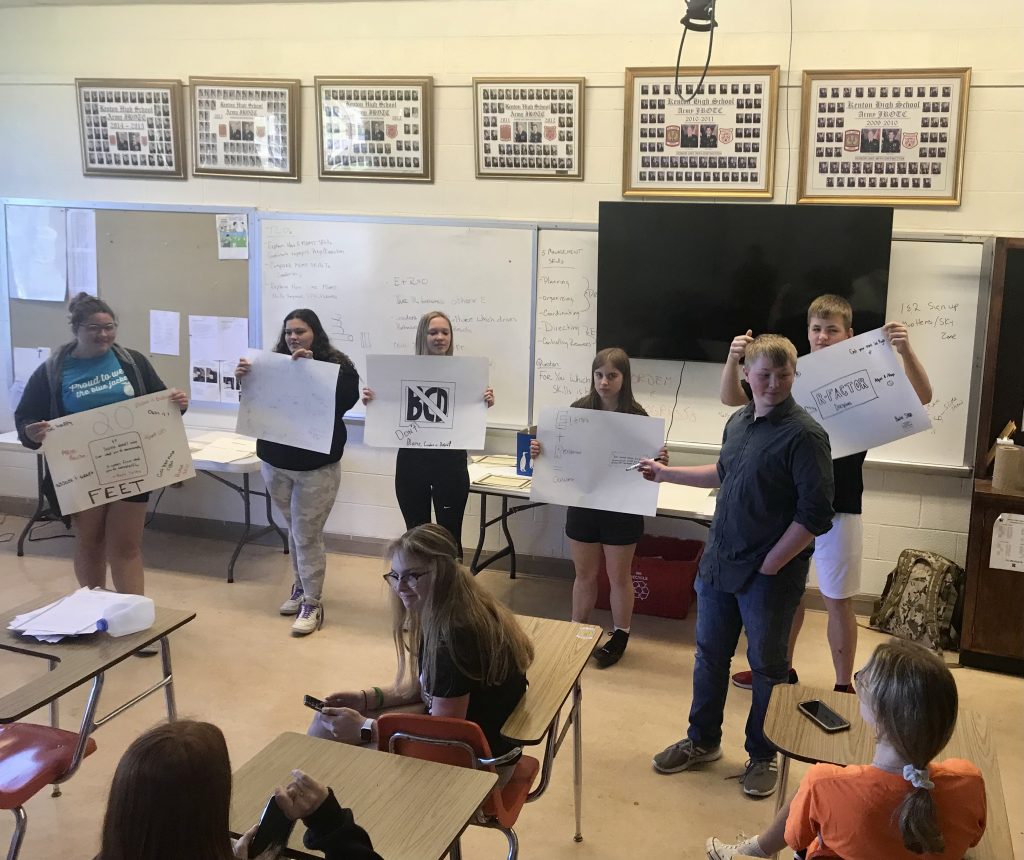 In 2019, Kenton City Schools entered into a partnership with an organization called Focus 3. Focus 3's CEO, Tim Kight, serves as the leadership coach for The Ohio State Buckeyes and many collegiate and professional teams and organizations across the country. His work is featured in Urban Meyer's book "Above the Line." Since this time, our district has been on a journey to enhance the culture of our schools.
W!N Program Director Christina Cross along with four W!N Lead grade band Advisors: Casey McGrew (Freshman), Bill Lawrence (Sophomores), Jennifer Rogers (Juniors), and Matt Dudek (Seniors) developed and wrote RFactor lesson plans for all KHS teachers to deliver during Advisory period.
At the end of school year, KHS teachers reviewed all of the R-Factor lessons, which included: Your R becomes others' E; Leaders create Culture which drives Behavior and gets Results; Own your 20 Square Feet; No BCD (Blame, Complain, Defend)!; The 6 R-Factor Disciplines; Be Above the Line, not below; and Be the Best Version of You.
Then, students were challenged to create a poster design that signifies or symbolizes an R-Factor lesson that they've learned this year in their advisory classroom. Students were encouraged to work together to come up with a design on paper or online using a Google slide. Once students designed several posters, they were to vote on the top poster to submit for the contest on behalf of their advisory classroom.
"The poster contest brought all the lessons together for my students," said Melody Norris, KHS Math Teacher. " My advisory class voted for a poster that was hand-drawn by the students, and it incorporated all 6 of the R-Factor Disciplines – Press Pause, Get your Mind Right, Step Up, Adjust & Adapt, Make a Difference, and Build Skill."
KHS Principal Jason Jones, KHS Art Teacher Rhonda Grubbs, Makerspace Director Wes Goldsmith, and Mrs. Cross selected the top 8 poster design entries submitted from 32 advisory classrooms. On May 24th, Principal Jones announced the top 8 posters: Mr. Brent Fackler's 10th Grade Advisory poster designed by Ethan Yoder; Mr. Bill Lawrence's 10th Advisory poster designed by Brynn Butler, Mya Good, Samuel Chen & Susan McElroy; Ms. Julie Dearing's 10th Grade Advisory poster designed by: Jayden Bostelman; Mrs. Cross' 11th Grade Advisory poster designed by: Riley Hunt; Mrs. Melody Norris' 11th Grade Advisory poster designed by: Seth Manns, Dustin Proffitt, Jarron Willoby & Alex Furr; Mr. Nick Stuck's 11th Grade Advisory poster designed by: Kendyl Gibson; Mrs. Sharon Martin's 12th Grade Advisory poster designed by: Samantha Lowe; and Mr. Matt Dudek's 12th Grade Advisory poster designed by: Aryanna Spangler.
KHS Junior Kendyl Gibson, who designed the winning poster from Mr. Stuck's advisory class this year, said: "It was a fun activity, and I was surprised to learn that my poster had won overall for the school. I am looking forward to seeing it in the hallway next year."
Mr. Goldsmith will reproduce the winning designs and create large, hallway posters. The hope is that the student-designed, RFactors posters will remind students to use R-Factor language, skills, and behaviors.  Principal Jones pointed out that:  "As Tim Kight says, 'Culture is not a poster that hangs on a wall. Written statements help clarify the culture, but culture isn't built by documents.  It is built by disciplined behavior.'  Here, at Kenton High School, we are fully committed to establishing a culture that is built by our behaviors and following the R-Factor disciplines."  
Questions or follow-up, please contact:
Christina Q. Cross
Kenton City Schools Career Readiness Advisor, WCC Internship Coordinator & W!N Program Director
[email protected]