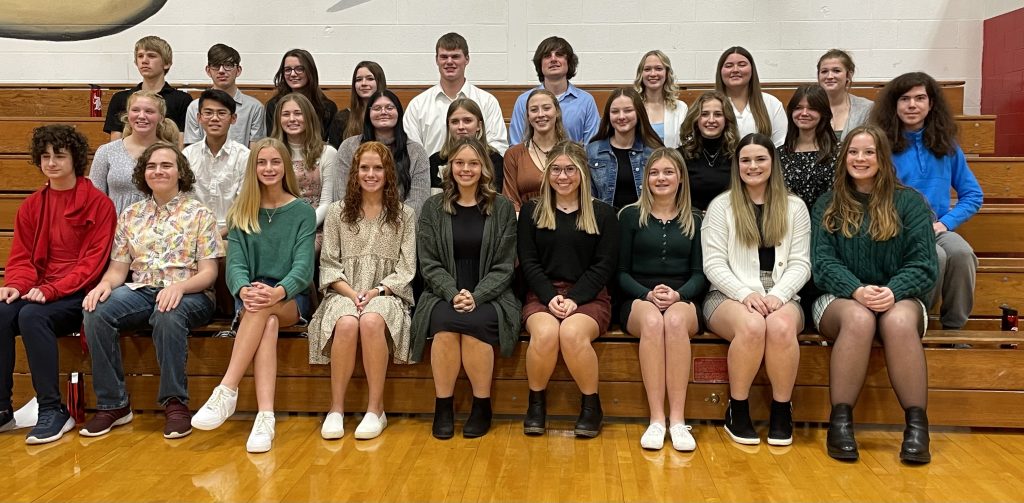 Kenton High School students were recognized on Wednesday, October 19, for their individual academic performance for the 2021-2022 school year. Academic Awards are given to students meeting specific end of year GPA requirements for the previous school year. This year one hundred two students received an award: 57 students received their first year letter, 31 students earned their second year pin, and 14 students earned their 3rd year pin. 
The following students earned their First Year Academic Letter: Class of 2023 – Madison Breakey, Patrick Cannode, Annabella Halcomb, Tyson Lawrence, Tatum Miller, Kennedy Nelson, Brylee Ramge, Sierra Saylor, Shane Spencer, Alyvia Spriggs, Manny Wilson. Class of 2024 – Jayden Bostelman, Cailyn Brown, Bethany Cameron, Malia Fowler, Dakota Freshcorn, Heaven Harris, Kinley Howe, Grace Lodge, Susan McElroy, Drayton Palmer, Shyann Sonnett. Class of 2025 – Luke Anderson, Taylor Arthur, Tessa Baier, Taylor Barlow, Rylee Benson, Samantha Blue, Gavin Boyle, Kairi Brim, Austin Chen, Sienna Christie, Christopher Compton, Anna Coon, JoLee Dawson, Donnie Dunn, Kami Gay, Leah Harder, Macee Heckathorn, Cailyn Hopkins, Emma Hougendobler, Amara James, Cameron Jesionowski, Korbin Johnston, Sadie Larrabee, Morgan Lyons, Addison Mustain, Misa Musser, Abigail Schmelzer, Alexis Schadley, Braylon Smith, Josie Spencer, Ruby Styer, Mykel Thrush, Lucy Whitmer, Bill Wilkinson
The following students earned their Second Year Academic Letter: Class of 2023 – Anlyn Carlson, Kendyl Gibson, Drake Grant, Brock Heckathorn, Brody Heckathorn, Seth Manns, Trevor Robinson, Kasee Sandrus. Class of 2024 – Joel Bowman, Kelsey Bushong, Brynn Butler, Delaney Buxton, Samuel Chen, Angel Forester, Alison Gerding, Mya Good, Bella Hoffman, Adam Hopkins, Kale House, Anthony Hunt, Elia Kauble, Claire Ketcham, Emma Mulligan, Emily Pees, Kira Ray, Trent Rogers, Samantha Sturgeon, Brailyn Thacker, Haylee Wise, Lauren Woltz, Ethan Yoder.
The following students earned their Third Year Academic Letter: Class of 2023 – Grady Baum, Nathaniel Compton, Connor Defibaugh, Jayson Dyer, Carter Hale, Ali Harpel, Taylor Headings, Kooper Johnston, Aaron Modd, Avery Smith, Abi Temple, Gabi Wetherill, Jenna White.