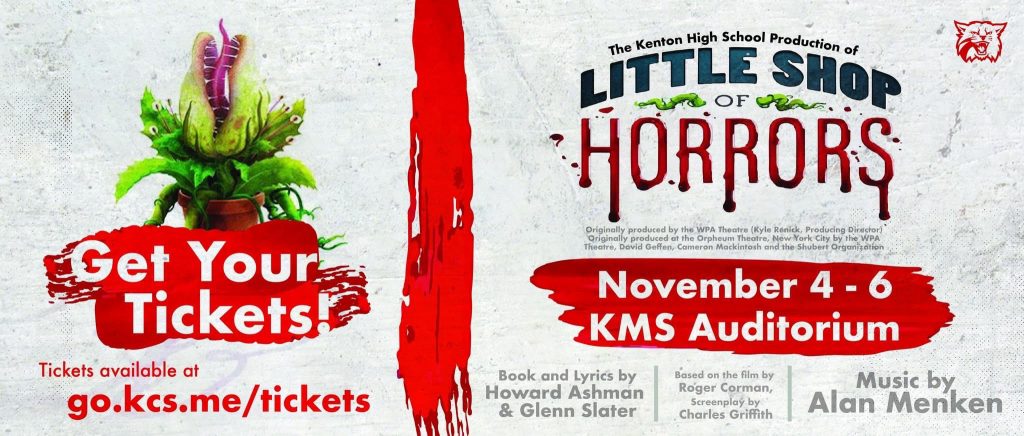 Kenton High School will be putting on its annual musical this weekend, November 4-6 in the KMS Auditorium. This year, our show is Little Shop of Horrors. The musical is a cult classic loosely based on the 1960 movie, and 1986 re-make, of the same title. Seymour Krelborn is a meek and dejected assistant at a floral shop who happens upon a strange plant, which he affectionately names "Audrey II" after his crush at the shop. Little does he know that this strange and unusual plant will develop a soulful R&B voice, a potty mouth, and an unquenchable thirst for HUMAN BLOOD.
As Audrey II grows bigger and meaner, the carnivorous plant promises limitless fame and fortune to Seymour, as long as he continues providing a fresh supply of blood. Just when it's too late, Seymour discovers Audrey II's extra-terrestrial origins and his true drive for world domination.
The show begins Friday & Saturday at 7:30 pm and Sunday at 2 pm in the Kenton Middle School Auditorium. Tickets are available online at go.kcs.me/tickets.
Director – Derryck Menard
Music Director – Todd Daquino
Stage Manager – Claire Ketcham
Seymour – Brock Heckathorn
Audrey – Abi Temple
Mrs. Mushnik – Abi Mustain
Orin/Luce/Snip Snip/Martin/Bernstein/DJ – Landon Murphy
The Plat Puppeteer – Richard Huang
Voice of The Plant – Carter Hale
Crystal – Ruby Styer
Ronnie – Alex Humphries
Charlotte – Grace Lodge
Ensemble – Kairi Brim, Gavin Manns, Alexis Shadley
Crew – Gatlin Davis, Elliot Hammonds, Luke Hensel, Kale House, Lydia Lambert, Emma Mulligan, Jace Murphy, Kai Reed, Kasee Sandrus, Tommy Mustain, Hayley Gallant