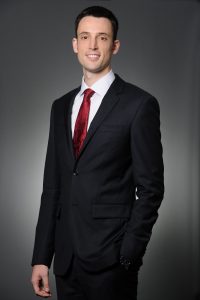 Name: Jason Marsico
Where Are They Now: Attorney, Sidley Austin LLP, Chicago, IL
KHS Class of: 2005
Parents name(s): Frank and Susan Marsico
Activities involved in at KHS: Soccer, basketball, marching and concert band, choir
Higher Education: J.D., Northwestern University School of Law; B.S. (Finance) Miami University
Job Description: I represent companies in all legal aspects of their relationships with their employees. This includes representing them in court during litigation, advising them in non-litigation contexts (for example, in negotiating agreements with executive officers), and counseling on employment issues in mergers and acquisitions.
Why do you do what you do? My job is about solving problems and designing solutions. I enjoy the intellectual challenge of clients coming to me with unique issues and asking for advice, then hunkering down to research and analyze those issues and ultimately proposing a solution. It challenges me every day.
Words of Wisdom: Ask for help and be direct about it. People are going to be more willing to help than you expect, but you have to ask for it. Also, get a great spouse – my wife makes every day more fun and less stressful!